About SiamDivers.com

Siam Dive n Sail Phuket: Your Liveaboard Experts
SiamDivers.com and Siam Dive n Sail has been offering liveaboard and resort dive holidays for over 30 years. Our experience in Thailand and the Similan Island including Richelieu Rock and Myanmar's (Burma) Mergui Archipelago is second to no one. We have been scuba diving the Andaman Islands, India, since 1994 and were some of the first to explore these islands. We have been diving on Indonesia liveaboards since 2001 and our favorites include Komodo, Raja Ampat and Lembeh Strait. More recently we've added the Republic of Palau, Timor Leste, Atauro Island, and the Philippines to our list of diving destinations. Our general knowledge of the diving travel opportunities in Southeast Asia and the Pacific Islands is based on decades of experience. We know everyone. 
Andaman Islands
Andaman Liveaboards
The Andaman and Nicobar Islands are part of India and define the Andaman Sea. She is home to indigenous peoples, ancient rainforest and some of the best diving anywhere.
Go to the Andamans!
Palau Islands
Palau Liveaboards
The islands of Palau offer world class diving year-around. Highlights are clear, blue water. Cave and wreck diving. Sharks are protected by law. Current diving is awesome.
Go to Palau!
Indonesia
Indonesia Liveaboards
Indonesia's 17,000 islands offer some of the best diving in the world. The Coral Triangle is the most biodiverse place on the planet. Komodo National Park and Raja Ampat World Heritage are world famous.
Go to Indonesia!
Philippines
Philippine Liveaboards
The Philippine Islands offer a treasure-trove of beautiful islands and offshore reefs, with both macro and big animal diving all year around. It's famous for whalesharks and dugongs.
Go to the Philippines!
Myanmar - Burma
Myanmar Liveaboards
Burma's Mergui Archipelago lies just north of the Thai border. Her hundreds of islands and rocks give us amazing diving from November until April each year. Black Rock is famous for oceanic manta rays.
Go to Mergui!
Thailand
Thailand Liveaboards
A favorite of divers from all over the world, the Similan Islands offers beautiful diving at a relaxed and friendly pace. Destinations include Richelieu Rock and Tachai, famous for mantas and whale sharks.
Go to Thailand!
Liveaboard Diving with SiamDivers.com

Siam Dive n Sail Phuket: Your Liveaboard Experts
We work with fleets such as Siren and Master Liveaboards, Mermaid Liveaboards, Wallacea Cruises, Damai Cruises, Solitude Liveaboards and Resorts and Black Sand Dive Retreat in Lembeh Strait, North Sulawesi. Our liveaboard partners offer every kind of diving under the sun–or under the moon–including wall and reef diving, deep diving, wreck diving, whale shark diving, shark diving, drift diving, cavern diving, critter diving, muck diving, macro diving, night diving, black water diving, warm water diving, current diving, clear blue water diving, and underwater photography.
Most vessels offer Nitrox diving, tenders, camera services, spacious dive decks, and some offer technical diving. We choose the vessels based on services and prices. We know not everyone wants a five-star liveaboard experience, but we also know that most people do not look for a cattle boat experience, either. 
When you talk with us you're talking to the owners of the company and not some reservations clerk who has spent two days in the diving business with the idea to return to the real world after they've had their fun. John Williams and Bent Posejpal have dedicated their lives to scuba diving. We've both been in this business for 30 years here in Phuket, Thailand, and that's a testament to longevity in any field. In the liveaboard business it's almost unheard of. With SiamDivers.com you know you've come to the right company for liveaboard diving in the Indo-Pacific areas.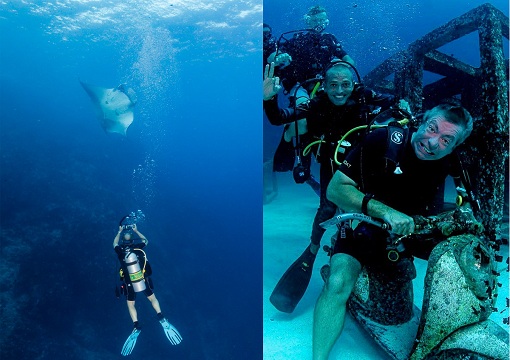 Co-owners John Williams and Bent Posejpal are veterans of more than 35 years in the diving business (each), and are experts on diving in Thailand, Mergui and the Andaman Islands, as well as other popular areas in the Asia Pacific Region. We are a small shop and offer personalized, tailored holidays to match your needs. We listen to you, then suggest a plan. 
John has authored or co-authored four books on diving in the region for
Lonely Planet,
Periplus. Dive Asia, and Times Edition.
Bent is a PADI Course Director who has trained well over 1000 instructors since 1994. He offers instructional level (IDC) training in Phuket every month.