About John WilliamsYour Liveaboard Expert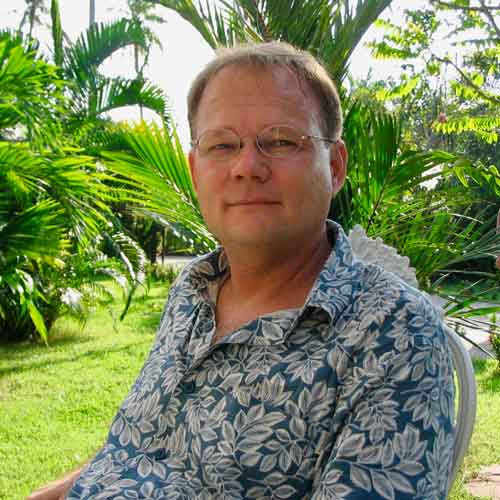 John runs the travel department of siamdivers.com and explores the region to get first hand experience on the various destinations we offer. His real expertise is in Thailand, Burma and the Andaman Islands, and was one of the first to dive and name many of the dive sites in the Andaman Sea.
John grew up in Southern California where he began diving in 1975 at the age of 15 on the coves of Laguna Beach. He has lived in Phuket and been involved in the diving industry here since the late 1980s, opening Siam Diving Center in 1987 and then Siam Dive n Sail 1996.
John has written or contributed to four diving guide books on the reefs, islands, and rocks in and around Phuket's Andaman Sea and Myanmar's Mergui Archipelago. These include Lonely Planet's "Diving and Snorkeling Thailand" in the year 2000 and Periplus Action Guides (three editions since 1994).
He was among the first to dive many of the dive sites which are so famous and popular today. John's home is in Phuket and lives with his Thai wife, Ornamon. She runs a popular restaurant and guesthouse in Kata Beach.
About Bent PosejpalYour PADI Course Director
Bent has been a PADI Course Director since 1994, is part-owner of Siam Dive n Sail and teaches PADI Instructor Development Courses monthly.
Bent "it's hard to admit you're bent" Posejpal grew up in Norway and learned to dive before he could walk as his father had one of the leading dive centers in southern Norway. Bent got the bug early and stayed with it.
He became a navy diver in the mid-1980s, facing down Russian war ships in the coast guard with his Viking warriors. After a couple of years of freezing his rear end off in the Arctic Circle, he got smart and moved to the tropics for what he thought would be a year of fun and frolic in Thailand's warm seas. That was almost 30 years ago.
Today, mild-mannered Bent teaches PADI instructor courses here in Phuket and Phi Phi Island monthly. He operates our travel department when John is away. In his spare time he plays golf. He lives in Phuket with his Thai wife, Da, and his almost grown up daughter, Sylvia.