MV Dolphin Queen Liveaboard
~ Diving Myanmar's Mergui Archipelago ~
MV Dolphin Queen Liveaboard
The 26 meter (85 foot) MV Dolphin Queen Myanmar liveaboard takes 18-22 guests on board. She dives the Mergui Archipelago in Myanmar (you may call it Burma) from November until April each year. Highlights include Black Rock, manta heaven, and Western Rocky, a site completely covered with marine life with a chance of spotting whale sharks and bowmouth guitar sharks. When she's not in Burma waters, she's diving Thailand's best spots.
Dolphin Queen's Safety Gear
The ship carries safety equipment for safe passage at sea including first aid kits, Oxygen, a DAN oxygen kit, two 15-person SOLAS life rafts, and SOLAS life jackets for both adults and children. Dolphin Queen's communication gear includes VHF radios, SSB radios for long distance communication, CB radios, GPS, radar, echo sounder, and mobile telephones. Nitrox is available and encouraged.
Liveaboard Cabin Configuration
Dolphin Queen Mergui liveaboard has two double bed upper deck cabins, two double bed middle deck cabins, one twin bunk bed cabin, and three quad-share bunk bed cabins for a total of 22 passengers. For Mergui liveaboard itineraries, she only takes 18 passengers. She has a total of three very large, very comfortable shared bathrooms with showers. The liveaboard carries plenty of fuel and water for all itineraries and all cabins have their own air conditioner and an opening sea view window. 220v plug sockets for charging are in each cabin. There is little storage in the cabins so please pack lightly. You may leave extra luggage at the dive center.
Dolphin Queen Destinations
The Dolphin Queen liveaboard operates both in Thailand and Myanmar. Myanmar's Mergui Archipelago liveaboards are seven-days and six-nights. She is available for individual bookings as well as charter cruises. Individual prices are listed below in the schedules, please contact us for full-boat charter prices.
Dolphin Queen Depatures
All Myanmar departures are from the boat's office in Khao Lak, Phang Nga, Thailand, one hour north of Phuket International Airport. All Dolphin Queen Mergui liveaboard safaris depart from Thap Lamu Harbor or Ranong near the Burmese border. Hotel pick ups in the Khao Lak area are free of charge. Transfers from the dive center to the boat are free of charge. Paid transfers are arranged to and from your Phuket hotel or airport to the boat on departure day.

18-22 Passengers
Nitrox Available
Double, Twin and Quad Cabins
3 Big Shared Bathrooms
Air Conditioned
Low Prices
Thailand and Burma Itineraries
Friendly Atmosphere
Fabulous Thai Meals
What's Included
Mask, fins, snorkel and wetsuit
Light for night dives
Biodegradable soap & shampoo
Professional PADI dive guides
All meals, snacks, fruits, water, electrolyte drinks, tea, coffee
Small groups: 4 divers with 1 guide
Towel
20% off for snorkelers (non divers.)
What's Not Included
Burma entry fee is $230 USD
BCD: 250 THB per day
Regulator: 250 THB per day
Dive Computer: 250 THB per day
15 liter tank: 150 baht per day
Nitrox @200 baht per fill, 3,600 THB for the Mergui package (~22 dives)
Advanced Open Water course on board is 7,500 baht
Transportation from Phuket. These trips depart from Khao Lak. Pick up from all areas in Khao Lak is free of charge.
Transfers from Phuket are based on the area you're staying. These prices are for up to two persons with each extra person an additional 100 baht.
Phuket Airport: 1,300 baht
Kata/ Karon: 2,200 baht
Chern Talay: 1,600 to 1,700 baht
Chalong/ Rawai: 1,900 baht
Patong: 2,000 baht
Rassada Pier, Phuket: 1,800 baht
For Mergui entry please prepare and bring with you the following: 
1) Copy of the picture page of your passport.
2) Two passport pictures (nothing formal, just two head shots.)
3) USD in cash only, no other currency is accepted by the Burmese. New bills only.
*Upon booking, please send us a copy of your passport. We need to send this to the government in advance.
7-days & 6-nights: Mergui Archipelago & Black Rock
Khao Lak – Ranong – Kawthaung – Mergui Archipelago – Ranong – Khao Lak
Day 1
07:30 Meet at boat's office in Khao Lak
08:00 Rental Gear Fitting and Paperwork
09:00 Depart for Ranong in comfortable minivan
12:00 Pick up from hotels or airport in Ranong
You may fly to Ranong from Bangkok (DMK) today
12:30 Lunch and Thai Immigration on board
14:30 Arrive Kawthuang, Burma
15:00 Burmese Immigration Proceedures
Depart for overnight cruise to Mergui Archipelago
Day 2
Diving Three Islets and Beach Visit
Day 4
Diving at Stewart Rock, Rainbow Rock and Castle City
Day 5
Diving at Frog Rock and Candy Canyon
Day 6
Diving at Fan Forest and Western Rocky Island
Day 7
06:00 Breakfast On Board
07:00 Diving at Shark Lagoon (1 Dive)
08:00 Depart for Kawthaung
12:30 Arrive Kawthaung, Burma Exit, Shore Visit
15:00 Thai Immigration in Ranong
15:30 Depart for Khao Lak Dive Center OR
Stay the night in Ranong, or fly to Bangkok the next day OR
Visit Koh Phayam 
No flying today please
Please note: Approximately 21 dives. Itineraries are for general information only. We make no claims to being 100% accurate as there are too many factors affecting the schedule. We will give you the best diving on the best spots we can each day.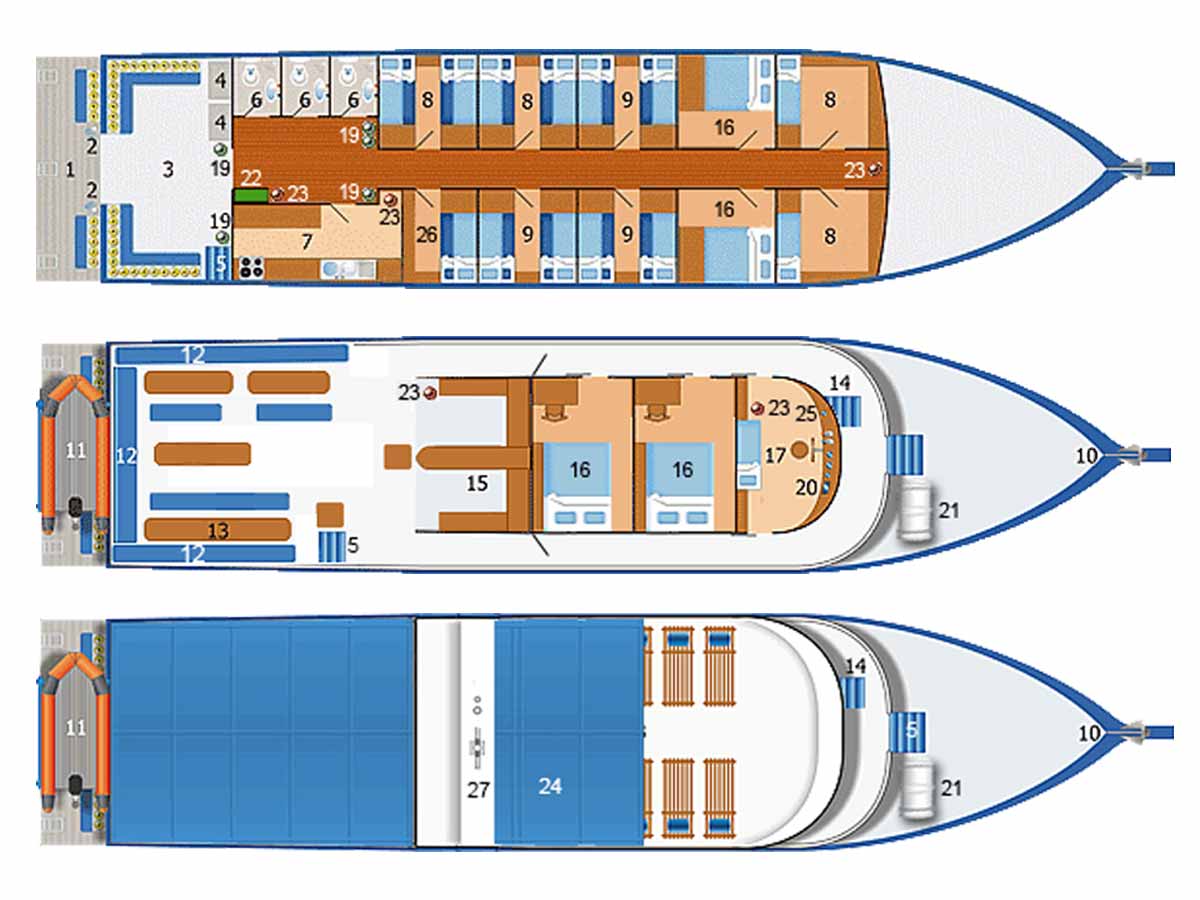 1 Dive platform
2 Deck showers
3 Gearing up area
4 Compressors
6 Toilet/shower
8 Crew cabins
9 Guests cabin (4 berths)
13 Dining area tables
15 Self service counter
16 Double bed cabin
19 Oxygen station
20 Depth sounder & GPS
21 Life raft (with survival equipment)
22 Nitrox blending station
23 Fire extinguisher
25 Satellite phone
26 Guest cabin (2 bunk beds)
27 Radar
Dolphin Queen Myanmar Schedules
Check Availability
Departures can't be confirmed immediately as availability changes by the hour. We check to make sure the departures and cabins you prefer are available. We then hold them for 48 hours to give you a chance to book the trip. Booking is easy and credit card payment is secure through our merchant account.
There is no obligation to purchase trips at this time. Your information will not be stored or shared.